Products
Interlinings :
We have registered our brand names and trade marks : Bromer; Bonlace

; and T-Dots

. They are recognized by our customers in quality and services.

Collar Felt with Colours Range :
-RF Wool and Polyester 140gsm
-CF Polyester 155gsm
-PF Polyester 225gsm

Hair Canvas and Chest Felt :
They are usually used inside the front of men's suits and jackets.

Embroidery Backing Materials

Miracle Film :
Low-melt point film (120óJ to 140óJ) used in backing and topping of embroidery. It needs to use with peeling machine to remove the film away and it keeps the design clean and tidy.
Tear-Away :
Nonwovens are ease to tear, they are supporting and stabilising the embroidery designs.
Hydro-Soluble :
Cold water or Hot water soluble in form of films and nonwovens are used in the backing and topping, they can be dissolved by water and suitable for the embroidering difficult fabrics and keeping the shape of design.
Fused-On :
Hot melt adhesive web and film, they are used in bonding and fixing the embroidery design on the fabric by press and heat.
Please contact us for further details and applications of each materials. We will help you to solve the embroidery problems.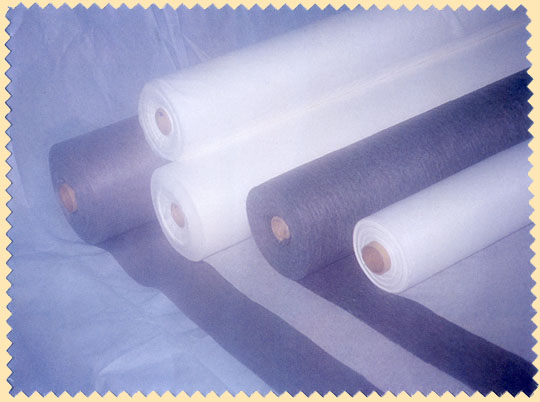 OUR PRODUCTS ARE INSIDE THE APPARELS AND SUPPORTING THE GARMENTS, IT IS AN IMPORTANT FACTOR OF THE STYLE FOR GARMENTS, BUT IT IS AN INVISIBLE GARMENT ACCESSORIES.

PRODUCT RANGES ARE CLASSIFIED BY THE BASECLOTHS AS FOLLOW:
-NONWOVENS: Thermobond, Chemical bond, Spunlace, Spunbond and Needle-punch.
-WOVENS: T/C, 100% Cotton, 100% Texturised Polyester and Hair Canvas.
-KNITS: Circular Knit, Tricot, Warp Knit and Weft-Insertion.

There are many choices for the handfeel of the products: Soft, Hard, Voluminous and Resilient. we can develop many fusible interlinings by different coating methods

OUR COATING FACILITIES AND METHODS:

DOUBLE DOTS COATING: Fusibles for special finished fabrics.
PASTE DOTS COATING: Usually for the nonwoven basecloths, we have many dots
screen patterns for the paste dots items.
POWDER DOTS COATING: Both for wovens , knit and nonwoven basecloths.
SCATTER COATING: Both for different weights of wovens and nonwovens,
HOT MELT LAMINATION: Heat Bonding for the two layers of textiles fabrics.
T-Dots : Hot Melt Adhesives Dots are coated on the siliconized paper to form the transferable dots, it can be used in heat bonding process for the seamless sportwears, underwears, embroideries, leathers bags and garments.

| | |
| --- | --- |
| | . |